Become a member of the
SGSO Network!
Membership is completely free and is up to you on how you engage.
Anyone who feels they can benefit from our programs is welcome! 

We are a network of school garden champions, supporting programs at any level, from individual school gardens to School Garden Support Organizations (SGSOs) who serve multiple school gardens. Currently, our network consists of 4,600+ individuals representing more than 2,000 organizations or schools that support tens of thousands of school gardens. Learn more about our Network and our mission on our About page.
In response to our 2021 Strategic Plan, we have expanded our membership to include school garden professionals working directly or indirectly with school gardens at any scale from the individual garden educator to the program staff at an organization supporting dozens of school gardens across a region.
Why be a part of the SGSO Network?
We know that garden-based learning has the power to grow healthy kids, engaged learners, resilient empowered youth, and environmental stewards.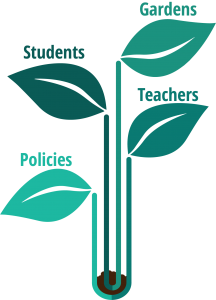 By being a member of the SGSO Network, you a part of the growing school garden movement as we all seek to increase the number of:
School gardens

Students engaged in garden-based learning

Teachers utilizing gardens

Policies to support school gardens programs
As a member, you have the ability to co-create the SGSO Network's programs, focus, and resources. Share what you've learned and learn from others to eliminate redundancy and reduce reinventing the wheel, allowing you to save time and resources and improve the quality of your programs! 
How Does Membership Work?
Membership is completely free. We invite you to engage however and whenever you'd like.
Signing up for our email list is the best way for us to stay in touch with you to share information on programs, resources, and events. 
Have Questions or New to the Network?
What does membership entail?
Learn from and share with thousands of school garden professionals across the United States, Canada and the world!
Sign Up for Our Email List
Stay up to date on information related to the Network as well as training, resources, and events for the school garden movement.
Engage with a Peer Learning Community
Connect, network, and work with other school garden professionals within specific a topic, regions, roles, identities, or others! 
Engage with fellow school garden professionals! Ask questions and share your knowledge.
"The SGSO google forum is an incredibly supportive and helpful community of garden and food educators. It's consistently one of the first places I go for A+ crowdsourcing difficult questions or sharing new resources."
Meet other school garden professionals at various in-person networking and professional development gatherings to connect, learn and be a part of the movement! Gatherings range from sharing a meal at a national conference to a week-long leadership institute.
"The SGSO Leadership Institute changed the way I thought about the collective power of school garden support organizations and the impacts our work have. It inspired me to think more about how we can collaborate with organizations already doing this type of work, not duplicate effort and work together for the goals that we share."
A core component of our Network is peer-to-peer learning. Our webinars and virtual gatherings provide the platform for you – the school garden leaders – to share your expertise with others.
Have a topic you'd like to learn more about?
Fill out the below form to suggest a topic.
Webinars are held usually once a month. Learn about upcoming webinars here.
If there's a topic that you'd personally like to share. We'd love to learn from you here.
"An SGSO webinar is ALWAYS useful and I look forward to them! ."
Driven by open source sharing, collaboration, and cross-pollination of ideas, our Promising Practices resources have been curated over the years by fellow school garden leaders and are centered on strengthening all aspects of school garden programming. Learn more or suggest your own resource
"The Promising Practices resources are invaluable, no matter your experience. As noted, there's no reason to reinvent anything, but plenty of opportunities to build on the work well-done by colleagues around the nation, in many settings! "
What would you like membership to include? How could the SGSO Network better support your school gardens and programming? Our Network is member-led and continually evolving to meet the needs of our participants. Help us shape our work by sharing your ideas and feedback here.