Strengthening Equity & Inclusion in Garden Education
The resources on this page have been shared by SGSO Network members, and collectively curated by participants in the 2021 National SGSO Leadership Institute, listed below. We invite you to contribute your own resources to share with the SGSO Network on the topic of equity & inclusion in garden education.
The intention behind this compilation of resources is to identify tools that can help SGSOs begin to do some of the work to answer these big questions and find the best ways to intertwine equity, inclusivity, diversity, and justice into all aspects of each school garden support organization. 
The Big Questions We Are Asking: 
How can we better recognize the ways that systemic oppression shows up in our organizations, programs, gardens and relationships with each other, children/youth, and our communities?
How can the leadership in our organizations be continually learning from, responsive to, and reflective of our team and the communities we work with?
How can we assess our culture and structure and then seek to strengthen these to be inclusive, equitable and anti-oppressive? 
How can we best uplift and collaborate with community? 
How can our efforts be culturally responsive and consistently center young voices?  
We want to appreciate and thank all of the groups who have shared resources and promising practices linked below, and the participants in the Strengthening Equity and Inclusion in Garden Education Working Group at the 2021 National School Garden Support Organization Leadership Institute, listed at the bottom of this website.
NOTE ON LANGUAGE: We recognize that language and terms can evolve concurrently with the progress of this very complex conversation. We are aware that new, more descriptive terms will continue to arise. Our overall goal is to use clear and consistent terms throughout this document while inspiring big picture, systems change. Toward this end, we used the following definitions, from a compilation created by Youth Outside, to guide our work.
Psychological, physical, and social differences that occur among any and all individuals, including but not limited to race, ethnicity, nationality, religion, class, socioeconomic status, education, body type, marital status, language, age, gender, sexual orientation, mental or physical ability, and learning styles. A diverse group, community, or organization is one in which a variety of social and cultural characteristics exist. (The National Multicultural Institute) 
The guarantee of fair treatment, access, opportunity, and advancement while at the same time striving to identify and eliminate barriers that have prevented the full participation of certain groups. The principle of equity acknowledges that there are historically underserved and underrepresented populations and that fairness regarding these unbalanced conditions is needed to assist equality in the provision of effective opportunities to all groups. (UC Berkeley Initiative for Equity, Inclusion, and Diversity)  (See Image below for an illustration of equity and justice)
The act of creating environments in which any individual or group can be and feel welcomed, respected, supported, and valued to fully participate. An inclusive and welcoming climate embraces differences and offers respect in words and actions for all people. (UC Berkeley Initiative for Equity, Inclusion, and Diversity)
Systemic devaluing, undermining, marginalization, and disadvantaging of certain social identities in contrast to the privileged norm; when some people are denied something of value, while others have ready access. (WPC Glossary from 14th Annual White Privilege Conference Handbook)
Culturally responsive-sustaining education advances educational justice by centering and valuing students' cultures and identities; using rigorous and relevant curriculum, and anti-oppressive teaching practices; building strong positive relationships between students, families, and school staff; and supporting students to develop the knowledge, skills, and vision to transform the world toward liberation.
HOW TO USE THIS RESOURCE COMPILATION
A lot of times, when organizations start conversations about strengthening equity and inclusion, focus is placed on one area, like hiring or programming. This guide is designed to create a big picture approach that appreciates the importance of weaving the guiding lights of equity, inclusion, diversity and justice throughout all aspects of an organization, its work, processes, and relationships. This involves all members of the group, from the board to leadership to volunteers, participants and staff. 
This compilation covers what we have been able to identify as the major components of full systems change in SGSOs. Each focus area listed below informs the other areas. This resource is by no means comprehensive. Rather, we tried to highlight just a few helpful resources for each key area. Depending on your context, you might choose to read this top to bottom, or you might jump to the section with resources most relevant to your current goals.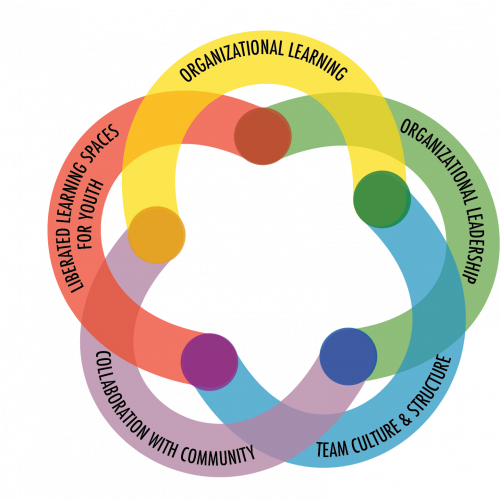 Resources for Strengthening Equity & Inclusion in Garden Education
Learning and Unlearning About Equity, Inclusion and the Perpetuation of Unjust Systems
Why Is It Important that SGSOs Work Toward Equity and Inclusion, and Ultimately Justice?  
Without a central focus on social justice, how we bound our system — and influence the structures, people, and invisible fabric that connects its foundational elements — is susceptible to unnamed bias and assumptions. We might also ignore the historic context that shaped our current systems in the United States, and pursue change efforts that don't address the patterns of the White, patriarchal, abilist  dominant culture that uphold our inequitable system. This article from Learning for Justice highlights that the first steps towards understanding and facing these broken/oppressive systems is to genuinely make the time and concerted effort to best understand our own and collective roles and impact as educators within it.  
Questions we ask along the way might include: 
●     What does transformative systems change look like in the field? 
●     Where are we seeing real shifts in power and lasting transformation? 
●     What is different about the approaches led by people of color, women, immigrants and others groups who are leading this work and often on the
periphery of dominant narratives about systems change?
How do SGSOs Begin to Learn and Unlearn About Equity, Inclusion, and the Perpetuation of Unjust Systems?
Educational equity exists when "policies, practices, interactions, and resources, are representative of, constructed by, and responsive to all people such that each individual has access to, can meaningfully participate, and make progress in high-quality learning experiences that empowers them towards self-determination and reduces disparities in outcomes regardless of individual characteristics and cultural identities" (Fraser, 2008; Great Lakes Equity Center, 2013). In order to begin working toward building a more equitable and just environment, it can be very helpful to first create a shared vision and defined vocabulary, like the examples offered above, to guide a group's work. In developing a shared vision and definitions, it is essential to include diverse voices. Addressing current inequities and organizational shortfalls can start when a systems change effort is led by a clear vision that recognizes the unique and individual needs and abilities of everyone in the group. The effort seeks to repair, restore, and lift up relationships and connections across people and communities to support shared stewardship for change.
Embedding Equity and Inclusion into Organizational Leadership
Once an organization has made the commitment to becoming more equitable and inclusive the follow up question tends to be…"But how do
WE
DO
this?" A very important part of the response is looking first at how our own teams are led. Many School Garden Support Organizations are designed to have a Board of Directors and some kind of leadership team who manage and facilitate the direction of the organization's growth. Many use strategic plans and similar tools to map out this growth and then make fundraising and financial decisions to make sure the resources needed to move forward are available.  When considering strengthening equity in organizational structure, it is naturally the responsibility then for the Board of Directors and those in leadership roles to strive to eliminate and remove barriers that may make the organization's internal systems and approaches less equitable and inclusive than intended.  
This section is a collection of resources and tools shared to help an organization ask questions like:   
●     How do we uplift youth voices when making strategic decisions that will guide our organization's and team's growth for the next three years?
●     Are there ways to improve our leadership to be more equitable?   
●     How can our Board of Directors and leadership establish ongoing relationships with our community members, participants and staff to be well
informed and community-connected when making organizational decisions?
●     How can our Board and leadership best reflect and represent those we are dedicated to working with in and out of the gardens?
●     Do we fundraise in a way that is aligned with our organization and community's values?
●     Do we spend our funds in the most equitable way possible that reinvests in our surrounding community?
Strengthening Diversity Through an Equitable and Inclusive Organizational Culture and Structure
An organization's culture is key to creating and then maintaining an inclusive environment that results in more equitable experiences for the individuals who work at the organization and the communities they serve. An equitable and inclusive organizational culture creates an equitable and inclusive structure and then the culture helps to reinforce, maintain and adapt the structure: they reinforce one another in a cyclical fashion. Over time, an equitable and inclusive culture maintains the fertile ground for additional growth to occur, allowing for a constantly evolving organizational structure to better meet the needs of its community. 
Organizational culture and structure can include many different aspects: language, team recruitment, interpersonal team dynamics and relationships, team support, work-life interactions, team development, vision, and much more. And especially of note, as organizations that support children and youth, organizational culture includes how youth voices are centered, welcomed and incorporated into structures. 
This section is designed to help readers think through different questions like: 
●     Who are we as an organization? Who makes up our staff culture? Where are we at and how can we grow? 
●     How do we develop and maintain a rich, inclusive, supportive and welcoming staff experience and internal community that retains staff, provides
space for them to show up in their full selves and take care of themselves all while doing great work?
●     How do we create a staff team structure that reinforces inclusion and equity?
●     How do we develop staff and create clear pathways for growth and development, leadership and power sharing? 
●     How do we develop a vision for our organization that centers equity and justice, children and youth voices? How do we set goals to achieve this
vision in our work?
Collaborating with Community through Partnerships, Program Development and Assessment
One key to the success of any School Garden Support Organization is community buy-in. This means with every new project it is ideal to have community members involved at every stage of the process, from before the ground is broken to many seasons after a garden has been established. Strategies for initiating collaborative community partnerships include: showing sensitivity to the community and its residents by waiting until an invitation is given or permission is granted before providing services, compensating community members for sharing time and expertise, and cultivating shared ownership of the space. The collaborative community partnership is strengthened by ongoing reciprocal relationships that foster safe and inclusive spaces that acknowledge the diversity of needs represented. Ongoing assessment of program impact can be accessible and community-centered. 
This section is a collection of resources and tools shared to help an organization ask questions like:
●     How do we establish and sustain trust amongst key community partners?
●     How do we ensure accurate representation of community voices?
●     How do we design the space to best fit the needs of the community we are serving?
●     How do we ensure the longevity and reciprocity of the relationships we are cultivating with our community partners?
●     How do we strengthen shared ownership of garden spaces?
●     How do we foster safe spaces where young folks feel empowered to shape the space with their creativity? 
●     How do we authentically represent community members' voices when communicating impact in evaluation and assessment?
Creating Learning Environments that Liberate Youth, and Professional Development
Learning environments that celebrate young people are paramount to building equity in garden education. Celebration is a perspective that includes culturally-responsive and sustaining approaches—it also includes joyfully honoring difference and diversity. Diversity and difference is strength. Gardens teach us this. A garden is not strong if it grows only one kind of plant. A single pest or disease could devastate the whole garden. Soil becomes depleted. If a garden grows a great diversity of plants, plants are able to feed one another and feed the soil. This diversity attracts a multiplicity of helpful insects and animals. The garden's vibrant ecology minimizes pests and disease.

In this same way, education as celebration starts from abundance. This can be strengthened  by recognizing  students, regardless of age, as co-conspirators in learning and fun, and by securing space for children and young people to bring their own wisdom, inherited from the wisdom of their communities. Knowledge like this is not scarce, it's prosperous like the Earth and the sunlight. To encourage environments that celebrate such knowledge, educators can attend to these four areas: teacher training, pedagogies, curricula, and spaces (socio-emotional-physical communities). These four topics overlap and inform one another deeply—and when combined, these four elements uplift students, garden education becomes liberation work, inviting young people into their own power.
Resource Pools:
●     Resource pool: Farm-Based Education Network Resources 
●     Resource pool: Learning for Justice Learning Plans 
●     Resource pool: Learning for Justice Classroom Resources 
●     Resource pool: Zinn Education Project Materials
●     Resource pool: Farm to School Resources, Equity Resources
Reading List Resources & Tools
Studies:
●     Learning Gardens for All: Diversity and Inclusion, Marna Hauk et al. (Prescott College). Description.
○     "By their nature, gardens embody diversity. This article
explores the cultural significance and value of school gardens for diverse communities in restoring and reclaiming their physical, mental, emotional, and spiritual health and resilience through stories, myths, and practical examples"
●     Creating a multicultural school garden program, Kaitlin Koch
Wojciak, Michigan State Garden Extension. Description.
○     School gardens can be most impactful for students of all
cultures when you intentionally plan an inclusive, multicultural garden program. This is especially important in diverse school districts and beneficial regardless of the area demographics.
●     The Garden of Diversity, Equity & Inclusion,
○     "If you think of culture as a garden.  There are three main
components necessary to reap the benefits of diversity, equity and inclusion."
Kid-Facing Resources:
●     Diversity and Equality for Kids, Kids Learning Tube. Video.
●     Facing History – Facing History's resources address racism,
antisemitism, and prejudice at pivotal moments in history
Additional Resources: 
●     Teaching with Equity in Mind, A sustainable world where
environmental and social responsibility drive individual and institutional choices, Kentucky Association for Environmental Education
●     https://splinternews.com/what-zootopia-has-to-say-about-the-
police-race-relatio-1793855167
●     BEETLES Discussion Strategies: Diversity, Equity, and Inclusion,
BEETLES Project.
●     Edible School Garden Program: Implementation Guide, Johns
Hopkins Center for American Indian Health. Starting and maintaining garden programs with Indigenous American communities.
●     Diversity, Equity, Inclusion & Belonging in Distance Learning
Classrooms, One Schoolhouse. Youtube video.
●     The Cedar Box Teaching Toolkit: Northwest Portland Area Indian
Health Board
●     Native Seeds Search. Resource for buying seeds native to the
southwest United States.
●     Kimberlé Crenshaw: The urgency of intersectionality, The
urgency of intersectionality, Ted Talk
●     Bioneers is an innovative nonprofit organization that highlights
breakthrough solutions for restoring people and planet.  Our dynamic programs and initiatives focus on game-changing initiatives related to Restorative Food Systems, Biomimicry, Rights of Nature, Indigeneity, Women's Leadership and Youth Leadership. Advancing gender equity and alliance building – https://bioneers.org/youth-leadership-and-education-program/
●     Sierra Nevada Alliance  Webinar recording featuring Dr Carolyn
Finney – Dr. Finney explores the complexities and contradictions of our past, the realities of our present and the possibilities of our future as it relates to green space, race, and the power to shape the places we live in our own image. By engaging in "green" conversations with black people from around the country, she considers the power of resistance and resilience in the emergence of creative responses to environmental and social challenges in our cities and beyond. Link to the webinar recording:  here.
●     The Greenlining Leadership Academy trains and empowers the
next generation of multi-ethnic leaders to create positive social change. We offer three transformative programs designed for young leaders seeking to reach their full potential.
●     YES! Magazine Presents: An Ecological Civilization webinar
recording – a virtual discussion with Leah Penniman, Winona LaDuke, and Jeremy Lent. The event was hosted by Zenobia Jeffries Warfield, YES! executive editor, and Andrew Schwartz, co-founder and executive vice president of the Institute for Ecological Civilization.
●     African American farm & garden leaders, past & present:
○     https://www.ithacachildrensgarden.org/gardenerstoknow/
○     link references Wangari Maathai, Karen Washington, Ron
Finley, and Will Allen
○     Fannie Lou Hamer & the Freedom Farm Collective 
The resources on this page have been shared by SGSO Network members, and collectively curated by participants in the 2021 National SGSO Leadership Institute, listed below. We invite you to contribute your own resources related to equity & inclusion in garden education to share with the SGSO Network.